Blackspace Durham is taking a semester-long break, inspired by our friends at Allied Media. We'll be back in 2020.
We are amazing! Since 2016, we have created fearlessly, and manifested some of our wildest dreams. We have so much more growing to do.
Thank you to our beloved community for believing in us; for buying a T-shirt; for showing up at a cypher, slam or dance; for liking, sharing and following us on social; for driving kids back-and-forth to a WokeShop. It takes a village, and ours is very strong.
For the past several summers, Blackspace has taken an annual pilgrimage to Detroit for the Allied Media Conference (AMC) — a radical gathering of social justice/digital media makers. Last year, just after celebrating their 20th anniversary, AMC decided to take the year off. They called it a "Chrysalis Year". In their words:
"We know we have a responsibility to grow with intention rather than to simply let growth happen. We have a responsibility to make the AMC ever-more accessible, liberating, and transformative.  We have a responsibility to work at a pace that is humane and that allows for spacious thinking.
For these reasons and more, we are excited to share that we will take a one year break from producing the Allied Media Conference.
The AMC has been a phenomenal caterpillar, hungry and growing for two decades, but what is the butterfly that we can become? We think it will take a year in chrysalis to figure it out. This will be a year of reflection, deep-dive evaluation, research, and development." 
We at Blackspace were inspired by the wisdom and leadership of our elders in Detroit, and have decided to claim our own metamorphosis. We are excited to announce that Blackspace is taking the semester off, so that we may do the work to grow wings!
What does this mean?
There will be no Blackspace WokeShops in Durham during the Fall of 2019. The only Blackspace event, which we have planned for the Fall is Med City Cypher.
Weather permitting, Med City Cypher will continue throughout the Fall, every Friday from 9:19PM-11PM in the heart of downtown Durham [201 Corcoran St]. 
This was a difficult decision to make. Many youth have told us that Blackspace is like a second home, and we realize that breathing spaces for youth are rare and precious. WE ARE NOT GOING ANYWHERE! We are taking the necessary time to intentionally shape our future, and invest in making Blackspace more resilient, responsive and healing for the community.
What Can I do? 
Help us reach our goal of 60 sustainers. This process will be a very important and vulnerable time for Blackspace and we need your support now more than ever! Can we count on you?
Blackspace is an Afrofuturism digital makerspace based in Durham, North Carolina. We offer local teens free WokeShops in the digital and creative arts, including videography, electronic music production, spoken word poetry, puppetry, coding and 3D printing. View our calendar or click this link to view a pdf of our Spring 2019 WokeShops, programs, and events. Join us in deep space!
Check out Blackspace's album Revenge of the Afronauts, Executive Produced by J Rowdy and mixed by Blackspace youth under the guidance of producer and sound engineer Rem, REVENGE is an album of original, refreshing North Carolina Hip Hop. Click here to listen to a podcast of the Afronauts on NPR/WUNC's The State of Things talking about the album. Stream the album here.
Blackspace was recently featured on BET's late night show The Rundown with Robin Thede! Shouts to Spaceship Capitan Pierce Freelon for telling our story on national television. Help us continue to grow. Become a sustainer! #FundAfrofuturism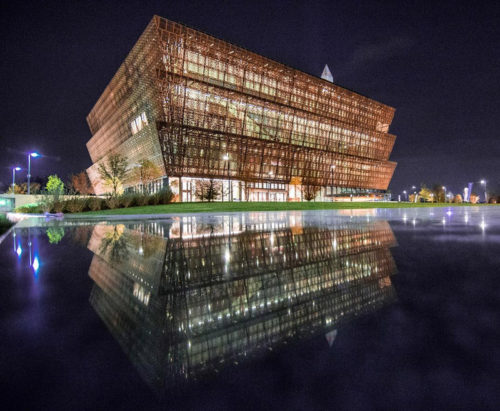 Blackspace, in partnership with Perkins + Will, Indulge Catering and lead architect Phil Freelon, chartered a bus to DC to visit the National Museum of African American History and Culture. We hope to make this an annual pilgrimage. Click here to view our recap video and watch testimonials with Genesis, Brentton, Jewel and Alex.