Blackspace Returns: Spring 2020!
Join us for Med City Cypher 3-Year Anniversary x Dreamville Fest!
For the past few months, Blackspace Durham has been in chrysalis – an intentional breathing space for reflection and growth. Now we are ready to spread our wings! Blackspace Durham will re-launch this week in celebration of the 3-year anniversary of Med City Cypher. Join us on Friday, February 21 in downtown Durham (201 Corcoran St) at 9:19PM for an evening of beats and rhymes!
In celebration of our emergence, Blackspace is partnering with Dreamville Festival. This year, Blackspace will have a tent at Dreamville and we will host a special master-class for teens with Dreamville producers in April (date TBD). Join us Friday at the 3-year Anniversary of Med City Cypher for a chance to win free tickets to Dreamville Festival!
To be eligible to win tickets to Dreamville you must be 18 years old and YOU MUST VOTE!** You can vote early up until Saturday, February 29th at one of 8 polling locations. Click here to find a polling place! Bring your "I Voted Sticker" to the cypher on Friday and you will be eligible to win tickets to Dreamville. It doesn't matter who you vote for JUST GO VOTE! 
**If you are convicted of a felony in North Carolina, you temporarily lose your citizenship rights, including your right to vote. It is our belief that this law is rooted in White Supremacy. Therefore, as Afrofuturists, we will not exclude felons who have been disenfranchised from eligibility to win tickets. 
Become a Sustainer!
Help us reach our goal of 60 sustainers. As Blackspace re-launches in 2020, we need your support now more than ever! Can we count on you? Click here to become a sustainer!
Blackspace is an Afrofuturism digital makerspace based in Durham, North Carolina. We offer local teens free WokeShops in the digital and creative arts, including videography, electronic music production, spoken word poetry, puppetry, coding and 3D printing. View our calendar or click this link to view a pdf of our Spring 2019 WokeShops, programs, and events. Join us in deep space!
Check out Blackspace's album Revenge of the Afronauts, Executive Produced by J Rowdy and mixed by Blackspace youth under the guidance of producer and sound engineer Rem, REVENGE is an album of original, refreshing North Carolina Hip Hop. Click here to listen to a podcast of the Afronauts on NPR/WUNC's The State of Things talking about the album. Stream the album here.
Blackspace was recently featured on BET's late night show The Rundown with Robin Thede! Shouts to Spaceship Capitan Pierce Freelon for telling our story on national television. Help us continue to grow. Become a sustainer! #FundAfrofuturism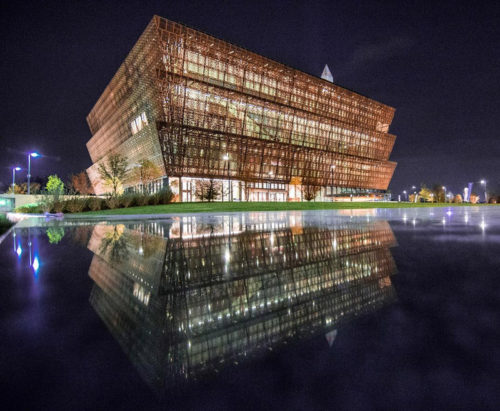 Blackspace, in partnership with Perkins + Will, Indulge Catering and lead architect Phil Freelon, chartered a bus to DC to visit the National Museum of African American History and Culture. We hope to make this an annual pilgrimage. Click here to view our recap video and watch testimonials with Genesis, Brentton, Jewel and Alex.