HIP-HOP
***Blackspace is not offering Hip Hop WokeShops during the Fall 2022 Semester. If you are interested in music production or DJing, see our SACRED TECH WOKESHOP; if you are interested in writing and performance, see our POETRY WOKESHOP; or join us at our monthly Hip Hop street performance MED CITY CYPHER. See an archive of our Hip-Hop WokeShops from previous years below, and stay tuned for more Hip Hop WokeShops in 2023.***
DURHAMFI (2020-2021)
Catch a vibe with our instrumental LoFi Hip Hop album: DurhamFi. Released in 2020, this project was created by Blackspace youth and facilitators, in collaboration with a great team of thoughtful and talented folks at Discover Durham. Look for "durhamfi" on your favorite music streaming platform or go to durhamfi.com to listen for free.
REVENGE OF THE AFRONAUTS (2018)
Revenge of the Afronauts is an album written, recorded, produced and mixed by youth hailing from throughout the Bull City: from Durham School of the Arts, to Northern, to Early College; the album features 10-tracks that reflect the heart and soul of Durham's next generation of Hip Hop purists.
"Raising up my power fist, showing off my battle scars,
shift from all my haters took a breath and now I'm moving on
pushing through my struggle, drop the beat and get my grooving on"
–Naima (aka NAMA) from the song 919
Blackspace Hip Hop Director Joshua Rowsey (aka J Rowdy) has been teaching weekly writing, performance and production WokeShops with Durham youth since 2016. Rowdy also host's Blackspace's flagship weekly street performance in downtown Durham called Med City Cypher – where youth share improvised lyrics and original beats every Friday starting at 9:19PM. Blackspace has been a unique hub for Hip Hop education. Legendary Hip Hop producer Pete Rock visited the Durham studio to talk music, industry and creativity during Black Wall Street in 2016. Multi-platinum-selling artist and producer Mike Posner came to Blackspace in 2017 to teach beat making and meditation. He transferred gigabytes drum sounds, digital instruments and drum kits onto Blackspace hard-drives, and many of his sounds have ended up on Revenge. Local producers: Trandle, ZenSoFly, Ebz, Alan Thompson and Shana Tucker regularly frequent the space. In 2018, after two years of study, mentorship, practice and growth Blackspace's Afronauts were finally ready to lift off!
"We've been working on this album for a long time, and it's astronomically different than anything I could have imagined," says Jeremiah (aka JAMM), a senior at Durham School of the Arts. "I've improved my mixing abilities, my production and I learned a lot about how to control myself in performance settings." 

"I'm so proud of these kids! They made their own beats, wrote their own rhymes, and the album is really really good!" said Pierce Freelon, Blackspace's fouder and former candidate for Mayor of Durham "Not just good as in, 'good for teenagers' good. Good as in this is one of the best albums I've heard all year good!"
Executive Produced by J Rowdy and mixed by Blackspace youth under the guidance of producer and sound engineer Rem (the co-owner of the local Cotton Candy company called WonderPuff) REVENGE is an album of original, refreshing North Carolina Hip Hop. Click here to stream the album on Soundcloud.
https://www.youtube.com/watch?v=uYk7_0zo3-8
Med City Cypher with J Rowdy (Ongoing)
Every 3rd Friday at 9:19PM youth gather in downtown Durham in front of the bronze "Major" bull statue to rap, sing, make beats, and create community together. We call it the MED CITY CYPHER because it takes place in Durham, the City of Medicine, and becuase the weekly ritual is deeply medicinal. At the cypher, youth are challenged to improvise and think on their toes and to build self-confidence and empathy. It's group therapy through Hip Hop! The Cypher provides safe space for kids to occupy the heart of our city every week, to speak their truth unapologetically, affirm self-esteem, and help the creative fires inside each of them radiate. In doing so, they transform, not only themselves but the City of Medicine as well.
Hip Hop WokeShop with J Rowdy (2016-2021)
Youth interested in Hip Hop can join our freestyle and theatre performance wokeshop, facilitated by emcee/founder of the UNC Cypher, J Rowdy. Write rhymes, record vocals, and get ready for live performance and recording. Check out Jamm, Zone and Naima in this Blackspace-produced banger titled "919". Learn more here.
Blackspace Poetry with Mariah M (2016-2018)
From 2016-2018 Blackspace hosted weekly writing and performance workshops for Black and Brown youth aged 13-19. Teens worked on developing their writing skills and performance techniques and took their work from the page to the stage! Poetry workshops were created and facilitated by Program Director/Slam Master Mariah M.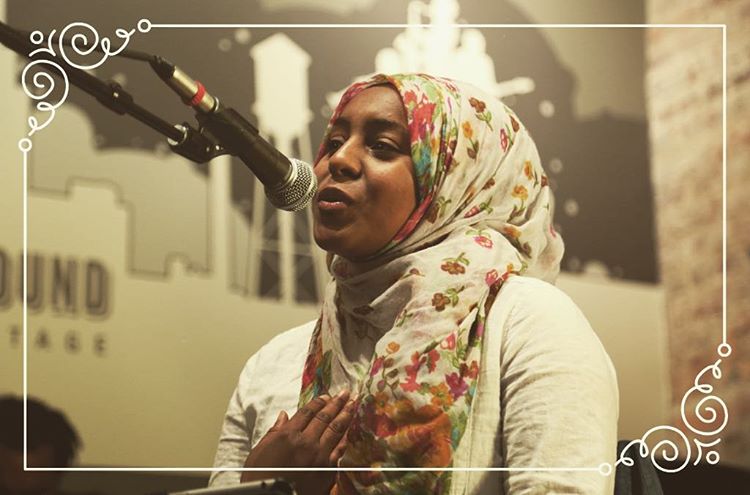 Brave New Voices with Mariah M (2017)
Brave New Voices is an annual international youth poetry slam and festival, which brings together the most outstanding and outspoken youth poets from around the world for five days of workshops, slams, showcases, community service and civic participation events. Blackspace Poetry first participated in BNV in 2017: as the first team out of Durham to compete at Brave New Voices.
For more information email: Mariah M.