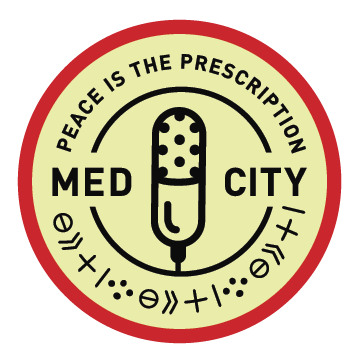 PEACE IS THE PERSCRIPTION
Med City™ is a start-up that makes well-crafted, Afrofuturism-inspired wooden jewelry. Merging ancient wood-carving traditions with new laser cutting technology, we design and print high quality necklaces, earrings, bracelets and other accessories. Manifested in Durham, North Carolina – the City of Medicine – Med City™ is a social entrepreneurship start-up imagined by Blackspace, a collective of young Black artists and entrepreneurs. We graft visions of Black futures onto wooden canvas.
Med City™ is inspired by Woodville Unlimited, a Black-owned business founded by Julie Pitts and Adrian Matlock in Durham, North Carolina in 2010, which closed its doors in 2014. We hope to carry their torch, creating hand-crafted, high quality, natural jewelry drawing from the imagination of Africa and its diaspora.
POP-UP STORE: FRIDAYS AT 9:19PM
Starting in the Fall of 2018, there will be a pop-up store at our weekly cypher. Every Friday at 9:19PM youth gather in downtown Durham in front of the bronze "Major" bull statue to rap, sing, make beats, and create community together. We call it the MED CITY™ CYPHER because the weekly ritual is deeply medicinal. At the cypher, youth are challenged to improvise and think on their toes and to build self-confidence and empathy. It's group therapy through Hip Hop! Our Pop-up store teaches social entrepreneurship in addition to community building. 
HIP HOP = HEALING
Elements of Hip Hop have roots in ancient African traditions. We've effectively traded one African drum for another: the djembe (an African drum made of goat skin, stretched out over a wooden frame) for an MPC (plastic pads connected to circuits and a motherboard), producing electronic beats that resonate positive vibrations out into the streets. Hip Hop was born in the Bronx, New York, at a time when many Black and Latinx youth were slipping through the cracks of the social safety net. Arts programs were being eliminated from schools, and youth were left with few alternatives, so they took their creative energies to the streets. Durham is at a similar crossroads, with underfunded schools, and historic disinvestment in the Black and Latinx communities. Meanwhile, as downtown Durham has expanded rapidly with restaurants, hotels, festivals, and bars, youth and people of color are feeling marginalized, and pushed out. MED CITY CYPHER provides safe space for kids to occupy the heart of our city every week, to speak their truth unapologetically, affirm self-esteem, and help the creative fires inside each of them radiate. In doing so they HEAL – not only themselves – but the City of Durham as well.
Join us on Fridays, to cop some jewelry, catch a vibe and support local business!